Who We Are
Providing compassionate and non-judgmental service to those affected by HIV/AIDS
We offer our hearts and hands to provide compassionate and non-judgmental service to people affected by HIV/AIDS.
Through education and support, we—as individuals and faith communities—work to build bridges, reduce stigma and sustain hope. We invite the community to join us in an informed, sensitive and compassionate response to those affected by HIV/AIDS.
1,000
CarePartners with HIV
48
Participating Faith Communities
Education
We provide HIV awareness, education, and prevention programs to help address the stigma of HIV and to build knowledge, understanding, and support.
Give Support
We offer numerous and unique support services for people living with HIV, providing classes, resources, and services to help people with HIV to live well.
Work with Faith Communities
We engage faith communities to learn and serve the needs of the HIV community in Southern Arizona.
Provide Resources
We are committed to finding and creating resources for education, awareness, and community engagement.
Who We Serve
TIHAN serves a diverse population of people living with HIV — women, people of color, members of the LGBT community, those from all walks of life and backgrounds. Although medications are helping to keep people with HIV alive longer than ever, there are still thousands of people in Pima County with HIV, and TIHAN serves to help them live well.
of people living with HIV that TIHAN serves who are women
of people living with HIV that TIHAN serves who are people of color
of people living with HIV that TIHAN serves met the 2015 poverty guidelines set by the U.S. Department of Health and Human Services
HIV Numbers, National and Local
In the US today, there are 1.2 million people living with HIV, and that number continues to rise, especially among people of color. In Arizona, there are 17,349 cases of HIV as of 2015. In Pima County, there are approximately 3,000 people living with HIV. You may not hear about it because the death rate is much lower, but HIV is still with us and an important public health issue.
1 in 7 Americans with HIV do not know they have the virus
Estimated HIV cases in the US per year
of people living with HIV in Arizona are linked to medical care
of people living with HIV in Arizona have an undetectable viral load
1 in 7 Americans with HIV do not know they have the virus

14%

of people living with HIV are diagnosed late in their illness

24%

of all people living with HIV in the US are women

25%

The percentage of Black Americans to be diagnosed with HIV in their lifetime

5%

Even though African Americans make up 12%of the US population, they represent 45% of all persons living with HIV in this country

45%
Full Details and Citations
Our History
In times of trouble, people have traditionally looked to their communities of faith for guidance and support. Because of stigma about HIV, faith communities have not always been a source of awareness and education and support relating to HIV. TIHAN was formed to engage and activate faith communities and other caring groups and individuals to become part of the solution.
Today, there are 36 million people living with HIV around the world, including 1.1 million people living with HIV in the US. Right here in Southern Arizona, an estimated 3,000 people are living with HIV.
In the 1980's, a small group from one faith community began organizing a compassionate response as the disease began impacting members of its congregation. Saint Francis in the Foothills United Methodist Church responded by caring for those who were sick. And they also responded by providing HIV education and advocacy. This effort increased understanding and support within the congregation, throughout other faith communities, and the greater Tucson area.
As people of faith, we believe that God's reassuring and embracing presence reaches out to all those who are alienated and oppressed. We serve God and humanity by striving to emulate divine compassion, to seek justice and to provide service. This is our prophetic task.

—AIDS National Interfaith Network
As the church's AIDS ministry grew and expanded beyond St. Francis, a steering committee was formed with representatives from other faith communities and agencies, and in 1994, the group formed the Tucson Interfaith HIV/AIDS Network (TIHAN).
The group proclaimed a vision for reducing HIV stigma and increasing the level of support in Southern Arizona. "AIDS is a challenge, but it also represents an opportunity for communities of faith to respond with ministries of healing and hope, of concern and compassion. This disease challenges us to be healing communities, to respond from our deeply-rooted belief systems of caring for and affirming the dignity of all people. We are called to reach out with compassion rather than judgment, to foster awareness and education rather than fear, to support those living with HIV, to comfort the dying and the grieving, to respond in the face of suffering and pain, to act on the tenets of our faith."
In its early days, TIHAN was supporting people with HIV in the end-stages of their disease. Like a hospice program, TIHAN supported people in being supported to die with love and dignity, training volunteers to provide a host of support services.
Since 1994, as additional treatments and medications for HIV became available, TIHAN's mission of HIV education and support has continued, but its programs have grown and adapted to respond to changing needs. Today, TIHAN's programs and volunteers provide support to help people living with HIV to live well, as well as continuing to work to end the stigma of HIV, increase understanding and dialogue, and engage more people, organizations, and faith communities to a compassionate response.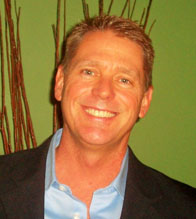 Scott Blades
Executive Director
With a wide-ranging background in education, law, counseling, media, GLBT issues, and volunteer management, Scott helped found TIHAN in 1994 as a means of supporting the religious community to address the growing crisis of HIV affecting our community, and the accompanying issues of religious homophobia. With his passion for equality and justice issues, Scott is active in many groups and organizations in community, advocating and working to build bridges of understanding. He has been featured in many print and television stories, and has received multiple community awards for his leadership and contributions.
Scott's position with TIHAN involves overall day-to-day management of the organization, along with working with the board of directors, and development, community and congregational relations responsibilities. Scott works closely to support TIHAN staff with their program responsibilities.
In his free time, Scott enjoys University of Arizona sports (especially basketball and football) and volunteering his time to causes close to his heart.
He can be reached at scott@tihan.org or 299-6647 ext 202.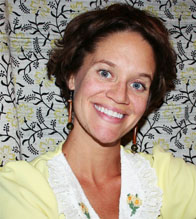 Deidre Demers
Program Manager
Deirdre hails from Pennsylvania and has volunteered and worked in the areas of community health, literacy, and education in Washington DC, rural Nicaragua, and here in Tucson. Her education is in Human Services and Public Health. Deirdre's areas of expertise and interest include women's health issues, HIV/AIDS, health equity, family health communication, and community healthcare access. She is excited to be a part of TIHAN's strong community response to HIV/AIDS. Deirdre is also a runner, an avid reader, and most importantly, a mom.
As TIHAN's Program Manager, Deirdre is responsible for managing agency programs for people living with HIV/AIDS, as well as training, placing, supporting, recognizing, and retaining volunteers to carry out the mission and programs of the agency. Deirdre works collaboratively with agency staff, agency volunteers, faith communities, healthcare providers, community groups, and social service agencies. She can be reached at ProgramManager@tihan.org or 299-6647 ext 203.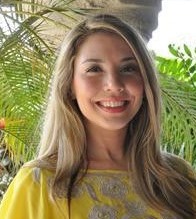 Dennisse Ley
Volunteer Coordinator
Born in Mexico to parents that always encouraged her to help others, Dennisse became involved in community and social justice groups at a young age. After getting her degree in communications at the University of Arizona, her work has included advocacy, volunteer coordination, fundraising support, and case management at Homicide Survivors and Emerge Center Against Domestic Abuse.
Dennisse enjoys spending time with her husband, son, and twin girls. She likes to spend time outside, play games, cook, entertain friends and family, read, watch movies, and write.
As TIHAN's Volunteer Coordinator (part-time, 20 hours/week), Dennisse is responsible for recruiting, screening, orienting, placing, supporting, recognizing, and retaining volunteers to carry out the mission and programs of the agency. Dennisse works collaboratively with agency staff, volunteers, faith communities, and community groups. She can be reached at VolunteerCoordinator@tihan.org and 520-299-6647 ext 206.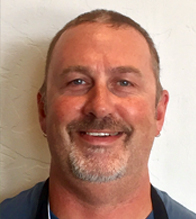 John Bass
Poz Café Kitchen / Menu Supervisor
John is a chef with over 20 years' experience. Originally from Portland, Oregon, he joined the US Army in 1989. After his enlistment, he settled in Colorado where he met his wife Stephanie, had 3 children, and began his culinary career. John has worked in and managed several restaurants, a boarding school, a naval resort on the Washington Coast, an acute care rehabilitation center, and has owned two restaurants with Stephanie. Currently, he is the head chef at Broadway Proper in Tucson.
When he is not busy spending time with his family or rooting for his favorite team, the Seattle Seahawks, John is looking for a way to give back. He has been involved with youth sports, taught adult education classes, and been an officer for a local VFW post.
As TIHAN's Poz Cafe Kitchen/Menu Supervisor (part-time, 10-20 hours/month), John engages volunteers in providing a healthy, nutritious monthly lunch for people living with HIV/AIDS, ensuring safety and compliance with health department rules and regulations.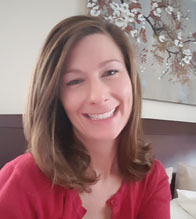 Maggie McCann
Operations Manager
Originally from the Chicago area, Maggie came to Tucson in 1999 to attend the University of Arizona, where she obtained her degree in Psychology. She quickly found her niche in the social services sector, and throughout her career has worked for various not-for-profit organizations in Tucson and in Canada.
Maggie has a wealth of experience working in Development, Volunteer Management, Direct Services, Organizational Management, and Operations. She is passionate about serving those in need throughout the community and is excited to be a part of the TIHAN family. In her free time, Maggie enjoys traveling, hiking, cooking, reading and spending time with her husband, daughter, and three rescue dogs.
As Operations Manager, Maggie manages TIHAN's administrative volunteer staff, oversees daily office operations (including maintaining databases, coordinating acknowledgement of donations, maintaining office equipment and systems, and working with vendors), provides program and fundraising support, and performs many other support roles. She can be reached at OperationsManager@tihan.org or 299-6647 ext 204.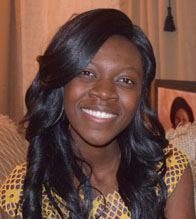 Christiana Owusu-Ankomah
Program Coordinator
Christiana is originally from Ghana, West Africa, but migrated to the states (specifically Phoenix, AZ) with her family nearly two decades ago. She recently received her Master's degree in Public Health from the University of Arizona. Christiana's interests include maternal and child health, global health, and health systems. In her free time, she enjoys spending time with her family and friends, playing badminton, and reading. Christiana has a passion for service and is excited to be a part of the TIHAN team.
As TIHAN's Program Coordinator, Christiana manages the agency's Link Specialist program and the Living Well with HIV program for people living with HIV/AIDS. She works collaboratively with staff and volunteers, faith communities, healthcare providers, community groups, and social service agencies, to ensure that program goals and objectives are successfully met. Providing education, support, and empowerment to Tucson's HIV/AIDS community, the Program Coordinator supports people living with HIV by connecting them with resources and classes that help them achieve their goals to live well. She can be reached at ProgramCoordinator@tihan.org and 520-299-6647 ext 207.
Our Board Of Directors
Executive Committee
Dan Uroff (President)
Accounting Manager, Western National Parks Association
Jill Rich (Vice President)
Realtor, Long Realty Company
Katie Meismer James, MPA (Secretary)
Development and Special Events Coordinator, Steele Children's Research Center, University of Arizona
David Cormier, CPA (Treasurer)
City of Tucson Budget Director, Retired
Members
Arlan Colton, FAICP
Consulting Planner
Planning Director, Pima County (retired)
Leslie Kahn, Ph.D.
Mathematics Educator, Retired
Jefferson Manzano, MSW
Program Specialist, Cenpatico Integrated Care
Tom Muller, Au.D.
Audiologist, University of Arizona Department of Speech, Language, and Hearing Sciences
Daniel S. Orozco, LPC, CETP, CCFP, NCC
Therapist, El Rio Community Health Center, Special Immunology Associates
George Vissichelli
University of Arizona Program Manager, Retired
Nathan Wade, JD
Assistant Public Defender, Pima County Public Defender's Office
Job Openings
TIHAN is currently recruiting a Volunteer Coordinator (half-time position) with experience managing a volunteer program, including focused volunteer recruitment.  For complete job description, minimum qualifications, and instructions for applying, click here.