Phil's Story of Living with HIV, and How TIHAN Made a Difference
In 2001, Phil became deathly ill. Doctors diagnosed him with a frightening array of serious ailments—Valley Fever, anemia, spinal meningitis, and HIV. It was a tremendous shock. He spent a total of eight months in a hospital and a nursing home rehab center, where he had to re-learn the basics of everyday life such as walking and taking care of himself.
Phil can talk from first-hand experience about living in a nursing home and being told that you might never recover. He was told that he might not even live too many more days. He can talk about having a TIHAN CareTeam and the importance of visits from TIHAN volunteers. "My TIHAN CareTeam visited me and helped me during those difficult days. They didn't have to, but they did. Their care and support surprised me, and also allowed my caregiver to have a little time to take care of herself."
"My TIHAN CareTeam visited me and helped me during those difficult days. They didn't have to, but they did. Their care and support surprised me, and also allowed my caregiver to have a little time to take care of herself."
Phil says that the CareTeam was a great supplement to the love and support he received during those difficult years from his daughter and from his care-giver, partner, and soul-mate Linda.
Forced to give up his career and devote himself full-time to his own recovery, Phil did so. And after he felt strong enough, someone told him to move from just surviving and to get busy and start living again. So he started volunteering…
Phil is passionate about teaching others about HIV, especially talking to young people who think it could never happen to them. And he also serves as a role model to others living with HIV, being "proof positive" that there can be life after a near-death experience of advanced HIV disease.
Today, Phil is a deacon at his church, St. Mark's Presbyterian, and he currently serves as the church's liaison to TIHAN, making sure that HIV and TIHAN are mentioned in just about every issue of the church newsletter. Recently, Phil coordinated his congregation's sponsorship of TIHAN's Poz Cafe lunch program. He also is a volunteer AIDS educator, teaching HIV 101, sharing his 'Living With HIV' story, and representing TIHAN at community events. Phil also volunteers as a TIHAN Link Specialist, helping others living with HIV to get connected with services in our community.
In December 2007, Phil gave the sermon on HIV/AIDS at Southside Presbyterian Church, another one of our member congregations. "Phil was wonderful and so many people were thankful for the courage and endurance he exhibited in telling what has to be a most difficult life experience," commented Pastor Larry Graham-Johnson. "We as a congregation were blessed by Phil's presence and we are challenged to be even more aware and supportive of those so often overlooked…"
Phil also does a lot of volunteer work with the Southern Arizona AIDS Foundation (SAAF), which nominated him for the Community Quarterback Award of the Arizona Cardinals. Out of all the nominations for volunteers in the state, the Arizona Cardinals chose Phil for the award! This program honors individuals who exemplify leadership, dedication, and commitment to improving the communities in which they live through volunteerism. Part of the funds that came with that award were designated by Phil to help provide transportation to Poz Cafe for those living with HIV who do not have other means of getting to the lunch.
Although he doesn't always have the energy he wishes, Phil is grateful to be able to stay active and involved. His viral load—a measure of how much HIV virus is in his blood—has gone from 3 million to "undetectable," and his T-cells—a measure of the strength of his immune system—have gone from 82 to well over 500. And his gentle spirit and great sense of humor carry him into the graces of many loving friends.
From the hospital bed in a nursing home to tireless activism and energy devoted to raising awareness about preventing HIV and empowering others to live as full and completely as possible, Phil is a role model for many. Earlier this year, Phil was honored with TIHAN's Empowerment Award because he exemplifies the amazing contributions of the many HIV+ people who exhibit exceptional courage and achievement.
Thank you, Phil, for the inspiration!
Make A Difference In Someone's Life Today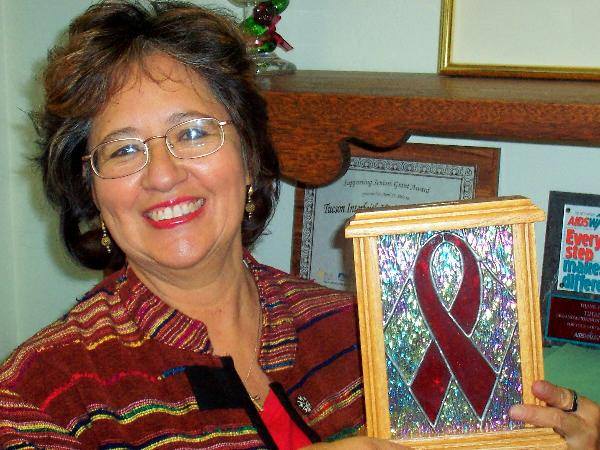 One Woman's Story: Georgeanne talks about living with HIV, and how you — through TIHAN — make a difference to her On the surface, Georgeanne is a wonderful, loving, dynamic and courageous woman.  She relates well to all kinds of people, in part because of her diverse...
read more