21st Annual Treasures for TIHAN
Our Annual Fundraising Event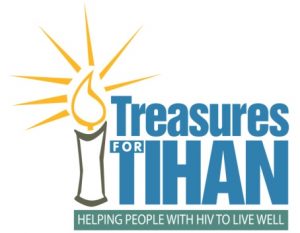 A Live and Silent Auction
with Great Food and Entertainment
Saturday, June 2, 2018
6:00 pm
---
Tucson Marriott University Park Hotel
880 E 2nd Street

"Treasures for TIHAN," the signature fundraising benefit for the programs and services of TIHAN, celebrates its 21st anniversary with a spectacular event! Join us for a sparkling evening of cocktails, great music, fantastic food, and wonderful auction items. Enjoy great hors d'oeuvres, festive entertainment, a no-host cantina, and a live and silent auction!
Thanks to generous donors and friends, we've got a fabulous evening planned for you, with hundreds of amazing auction items for you to bid on and win. Come out to the Marriott University Park Tucson Hotel for great food and drink, entertainment, and check out these items you can bid on and win!
In Living Color!
Join Tucson treasure Lupita Murillo and hundreds of Tucsonans for the biggest party of the year to benefit the programs and services that TIHAN provides for people living with HIV. The event is Saturday, June 2 at 6:00pm at the Marriott University Park, located at 880 E 2nd Street (University and Euclid Avenue), with FREE PARKING in the garage right next door (or you can choose valet parking for a small fee).
The theme for Treasures for TIHAN 2018 is "In Living Color!" Come enjoy the biggest fundraising event of the year to support the programs and services of TIHAN and help people with HIV to live well!
Get Your Tickets Now!
Early-bird special: Buy two tickets before May 1 for the price of $120!

Advance tickets for the event are $65 each, and can be purchased as late as Friday June 1
By clicking the secure link below to purchase tickets online, or
By calling 299-6647 (credit card orders can be taken by phone), or
From any Treasures volunteer, or
By visiting the TIHAN office between 8:30 AM and 4:30 PM
2660 North 1st Avenue Tucson, Arizona 85719 (north of Grant Road on east side of 1st Ave)
Or, you can purchase tickets at the door on the day of the event for $75 each.
Tucson Marriott University Park Hotel 880 E 2nd St
The value of food and services received in return for each ticket purchase is $30.
Buy raffle tickets to have a chance to win $1,000 cash!
Raffle tickets are $20 for five tickets or $50 for fifteen tickets.
To purchase tickets online, click here to be directed to our secure site!
Reduced rate hotel rooms/suites for our event night
The Marriott University Park Hotel is offering special reduced room rates for a limited time!
$95 for a room with a king bed, or
$115 for a king suite.
Donate an auction item
Would you or your business/organization like to contribute an item or a gift certificate to support the cause, and receive exposure in our community of hundreds of compassionate people who share your values?  Gift certificates, event tickets, ceramics, jewelry, services, trips, antiques – we like to have a wide variety of items to auction off! Contact us — we can pick up your donation, or you can drop it off.
Auction items that you would like to donate or that you have collected for the event may be dropped off at the TIHAN office (2660 North 1st Avenue) from 8:30am-4:30pm Monday-Friday. Also, item pickup may be arranged by calling TIHAN at 299-6647.
Please note: Items received after April 30, 2018 may not be included in the auction.
Items and completed forms may be delivered to:
TIHAN
2660 North 1st Avenue
Tucson, AZ 85719
TIHAN Phone: 520-299-6647
For more information, contact TIHAN at 520-299-6647 or email friends@tihan.org.
To access the online donation form, click here!
Or, you may download and fill in a donation form in advance.
Become a Treasures event sponsor
Sponsorship levels begin at $500, and each level offers you a host of benefits, including free tickets, publicity, and great karma! Individuals or businesses can become an event sponsor. Categories are as follows:
Amount
Sponsor Designation
Number
Available
$10,000
Diamond (Title) Sponsor
1
$5,000
Ruby (Presenting) Sponsor
1
$2,000
Emerald (Category Area) Sponsor
12
$2,000
Raffle Sponsor
1
$2,000
Entertainment / Stage Sponsor
1
$1,500
Auction Pen Sponsor
1
$1,000
Sapphire Sponsor
unlimited
$500
Turquoise Sponsor
unlimited
$200-
$499
Other Sponsor
unlimited
To become a sponsor or for more information, contact Scott Blades at 299-6647 or scott@tihan.org
Benefits of each sponsorship level and deadlines are listed in this downloadable file.
Sign up to volunteer at the event
We have volunteer opportunities on the day before, the day of, the day after – and even in the weeks and months ahead of the event.
Come on board and help us make this another grand event! Volunteers are needed for a variety of roles, both now as we plan the event, and on the night of the event itself. We need volunteers to assist with making phone calls to last year's item donors, sell raffle tickets the night of, and assistance with event set-up and volunteer during the event.
If you prefer to send us a form, please use one of these.
List of Sponsors
Special thanks to our 2018 event sponsors for helping to make Treasures for TIHAN a great success!
Ruby (Presenting) Sponsor

Emerald (Category Area) Sponsors

2018 Treasures Team Members
Sara Baker
Pam Chess *
Arlan Colton *
Eric Galbreath *
Linda Girard *
Jenny Hartung *
Soozie Hazan *
Peter Helman *
Craig Houck
Ellie Johnson *
Brent Land *
Lindi Laws *
Jess Losoya *
Rhonda Martin *
Janice Molina *
Adrian Molina *
Phil Moul
Cheryl Muller *
Vicki Myers *
Barbara Rintala
Patricia Ruiz *
Robert Ruiz *
Carol Schneiderman *
Kim Talerico *
George Vissichelli *
Jessica Zarling *
Event Manager
Jill Conway * / Detail Management
Treasures Staff Support
Scott Blades *
Maggie McCann *
Dennisse Ley
* Indicates Planning Team Member
Photos from the 2017 Treasures for TIHAN event









2017 Treasures for TIHAN photo gallery

Below is the list of generous individuals and businesses who donated auction items in 2017. THANK YOU! Please support those who support us! (Visit their website — if available — by clicking on the name listed.)
1st Rate 2nd Hand Thrift Store
9 to 5 Auto Detail
---
A
About Me Hair Studio
Barbara Adler
Alfonso Gourmet Olive Oil and Balsamics
Alternatives in Healthcare Detox Therapy
Patrick Alvarez
Anonymous
Arizona Friends of Chamber Music
The Art and Framing Company
Artists at Work/ Henry El Kaim
---
B
Kent and Mike Bader
Sara Baker
Ann Baldwin
Kevin Barnes
Beadecked & Beaddicted
Curt Beall
Bella Jewels Design
Nikolette Bellio
Robert Bennett
Big Frog Custom T-shirts and More
Joseph Birdsong
Scott Blades
Bluemercury Luxury Boutique  & Spa
Fran Braverman
Bruce Baughman Gallery
By Amethyst Creations
---
C
Bruce Cameron and Mark Rosenbaum
Tony Canchola
The Canyon's Crown Restaurant and Pub
Judith and Chris Caputo
Leslie Carlson
Pamela Chase
Cinemark Theatre
Cloud Dancer Jewelry Studio
Melinda Collins Knick
Color Pencil
Arlan Colton
Complete Pool and Yard Care, Inc.
Tim and Lori Cotton
The Country Store
Mary Brandt Croft
---
D
Cathy Davis
Robbie Dick
Dos Corazones – Lori Kirkpatrick
---
E
Sylvia Ebeling
Gregory Eddings
Dr. Bella Eibensteiner, DC – Chiropractor
Enchanting Glass Menagerie
English Salon Spa
---
F
Edward and Kelsey Farrell
Betty Millson Fink
Flowers, Rieger & Associates, PLLC
Glenn Fournie
Megan Franz
Freedom Smoke USA
---
G
Shelly Gallicho and Ken Arnold
Maurice Garifo
Linda and Jim Girard
Goldman & Goldman, PC
Goldstein Legal Team, PLLC
Larry Gomez
Good Muse Designs, Marnie Ehlers
Gusto Osteria Italian Restaurant
---
H
Jill Hagerman
Jo Ann Hanks
Jenny and Mike Hartung
Healthy Skin @ Sheftel Associates Dermatology
Pauline and Gene Hechler
Joseph Heller and Frank Ptak
Humane Society of Southern Arizona
HYDRA
---
I
IdeaMagic Visionary Marketing & Automation
---
J
Jam Culinary Concepts
Katie James
Jan Izlar – Independent Beauty Consultant
Jeanne Jensen
Ellie Johnson
---
K
Leslie Kahn
Mary Ellen Klawiter
---
L
La Hacienda Family Mexican Restaurant
Brent Land
Larry Moore aka Lucinda Holliday Jeweler Extraordinaire
Jon Lightfoot
Lone Mountain Turquoise Company
Richard Long
Jess Losoya
Lotus Massage & Wellness Center
---
M
Tina MacBeth
Lyle D. Marcks
Kris Marsh
Todd Martin, CPT Professional Piano Tuner
Steve McInnis
The Mini Time Machine Museum of Miniatures
Mostly Mosaic/Barbara Tarrish
Tom and Cheryl Muller
---
N
Denise Nagy, Friend of TIHAN
James E. Nation
John Nemo
Michael Nowack
---
O
William P. O'Brien
Lauretta Olson
---
P
Philabaum Glass Gallery & Studio
Photography by Rod Mullen
Plunketts Office Products and Hallmark Store
Pop Cycle "Handmade Upcycled Goodies"
POZ Café Volunteers
---
Q
---
R
Nick Ray and Daniel Eckstrom
Raymond Ramirez
Richard E. Rehse
Anne Reissner
Fr. Bill Remmel
Jill and Jim Rich
Lori Riegel
Roberta Rogers
Christina Rossetti
---
S
Sabrina Caswell Photography
Sandra Keeney Interiors
Carole Schoendorfer
Arthur Schwartz
Shaffer Dry Cleaning and Laundry
Sole Shoes
Katrina Sosky, LMT
Daniel Sotelo
Peter B. Starks
Starlight Pines Bed and Breakfast
Vicky Stromee and Margo Barnes
Maria Sturtevant – Healing Hands
---
T
Kim and Dan Talerico
Darla Thompson
TIHAN Board Nominating Committee
TIHAN Development Committee
TIHAN HR Committee
TIHAN Marketing Comittee
TIHAN Program Committee
Sallie Tofel – Pandora's Jewelry Box
Tomcat Enterprises Photography
True Concord Voices & Orchestra
Truland Burgers & Greens
Tucker Supreme
Tucson Appliance and Furniture
Tucson Pride/Tucson Lesbian and Gay Alliance
---
U
University of Arizona Athletics
Up and Running Computer Services
Urban Abstrakt Photography/Rachel Quinn
---
V
Deborah Van Sant and Ruth Butler
David Velenovsky and Donna Treadway
Jean Vickers
---
W
Martha Wall
Greta Ward
William Watts
Western National Park Association
Kare Williams
Kathleen Williamson
David Patrick Wolfe
Ray Wood and Bob Guthrie
Dotty Woody
---
Z
Z Forrest Gallery – Home of Treestump Woodcraft
Richard Zelens
Find Out More About TIHAN
TIHAN, Tucson Interfaith HIV/AIDS Network, is a volunteer-based, nonprofit organization focused on mobilizing the resources of faith communities to respond compassionately to those infected and affected by HIV/AIDS and to promote awareness and the prevention of HIV/AIDS.