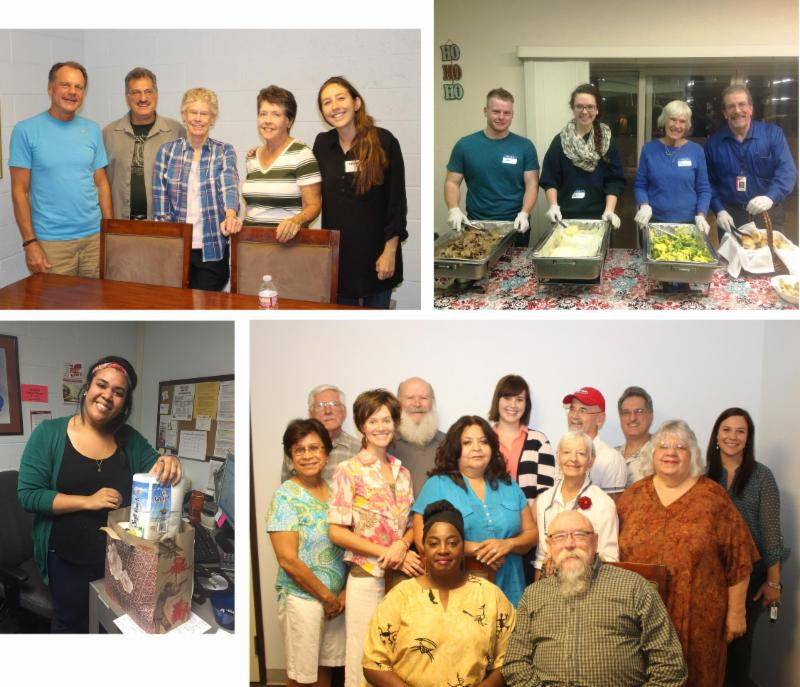 We Couldn't Do It Without You!
With the largest team of volunteers providing direct care and support to people living with HIV in Southern Arizona, TIHAN's programs thrive because of you, our amazing volunteers!
TIHAN loves our volunteers!
We utilize volunteer resources, multiplying the our impact.  In addition to helping us serve more people, it also involves more people in HIV awareness and advocacy.
Start Volunteering Today
Open PDF Form.
Print out the form and fill it in.
Mail it to TIHAN or submit it in person at the TIHAN office.
Many Ways to Volunteer At TIHAN
Become a Faith Community Liaison
Each congregation has an individual member of that congregation who serves as liaison between the congregation and TIHAN. If your congregation does not have a liaison and you are interested in serving in that capacity, please let us know.
Decorate Care Packages
TIHAN offers care packages to people living with HIV/AIDS. These bags are filled with toiletry items (paper towels, toilet tissue, shampoo, conditioner etc.). In addition to needing these toiletry items, we also need help decorating the bags so they feel more like a gift than a handout.
If you would like to help us decorate Trader Joe's bags and turn them into care packages, please contact us at VolunteerCoordinator@tihan.org or 520-299-6647 ext. 206.
You can do this at home and bring the bags to TIHAN's office at 2660 N. 1st Ave. (just south of Glenn)·
New Volunteers Start Here
Start Volunteering
Open either the Word or PDF version 
Print out the form and fill it in.
Mail it to TIHAN or submit it in person at the TIHAN office.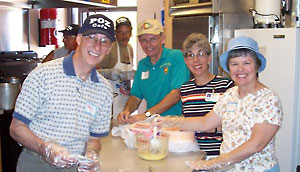 We will provide you with the training, education, and support you need
Necessary training, education and support to fulfill our mission of offering unconditional love and non-medical support to people living with HIV/AIDS, as well as their loved ones.
Care & Support Training Online Modules
Care and Support Training >
Thank you for your interest in completing TIHAN's Care and Support Training so that you can volunteer in support of those living with HIV/AIDS. We appreciate your continued dedication to the well-being and safety of our CarePartners.
There are two components of this online training available to you:
Psychosocial Issues and HIV Presentation

–

required

HIV 201 Jeopardy Game

–

optional
Both include a presentation to view and a quiz to submit.
If you choose to view the Jeopardy Game, you will need Microsoft PowerPoint. If you do not have PowerPoint, click here to install the free PowerPoint viewer.
On the last slide of each presentation, you will need to click on the link to the quiz. Please plan to complete your quiz in a one-time sitting, as you cannot save the quiz and continue to work on it at a later time.
When you are satisfied with your answers on the quiz, click the "submit" button at the bottom of the page. Once you click "submit," you cannot go back to change your answers. Your answers will be automatically sent to TIHAN.
If you have any questions during this process, please contact TIHAN's Program Manager at ProgramManager@tihan.org or 299-6647 Ext. 203.
1

Psychosocial

Issues and HIV

(required)

Use your arrow keys to advance the slides.

There are links to two videos in the slide show. After viewing each video, return to the slide show.

Take the quiz

2

HIV 201

Jeopardy Game

(optional)

Use your mouse to select dollar amounts and advance buttons.

Use your Esc key to leave the slide show when done.

Take the quiz
Record Your Contributions
We appreciate all that you do for us! Logging your hours spent helps us with our grant applications and helps us to improve.
It helps us when you fill your Volunteer Impact Report monthly. Volunteer Impact Reports:
Heighten our awareness of how much our volunteers do for us
Give us required statistics for grant applications and tracking
Help us understand how we can improve our relationship with you, our volunteers.