Dear Friends,
Because of your support, we're serving more people than ever before. And last month, we distributed our 15,000th CarePackage to a very grateful CarePartner who you'll meet below. Here are a few announcements with more opportunities to get involved and support our efforts, including upcoming concerts, a play, and a golf tournament. You're an important part of our community of support, so take a look and stay updated! Thanks and love!
Scott Blades
Executive Director

Jovanni Helps TIHAN Celebrate CarePackage #15,000
Last year, TIHAN provided support services to more 350 individuals living with HIV.  And in January, we commemorated another achievement – distributing our 15,000th CarePackage! Jovanni is the TIHAN CarePartner living with HIV who received this CarePackage.  In addition to all the toiletry, personal care, and cleaning items in the CarePackage, Jovanni also received a special gift to celebrate the milestone!  
Each year, TIHAN distributes over 1,600 CarePackages each year to individuals in Tucson living with HIV. The items in our CarePartners are incredibly valuable to people who might otherwise struggle to purchase these items on a limited budget. Each month, we let you know our greatest supply need, and we thank you for your response in donating these items and helping us to meet these needs of CarePartners like Jovanni every month.

Needed CarePackage Item of the Month: Toothpaste
Did you know that good oral health is an important part of good overall health?  Many of us might take for granted our ability to purchase toothpaste, ensuring the health of our teeth and gums. However, for some TIHAN CarePartners who live on limited incomes, purchasing dental hygiene items isn't quite as easy; especially because they cannot be purchased using SNAP benefits (formerly known as food stamps).  Please consider picking up a few extra tubes of toothpaste to donate on your next errand, making sure they are ADA-accepted. Donations can be dropped off at the TIHAN office Monday through Friday, 8:30am-4:30pm.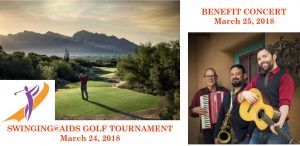 Two Great Events to Support TIHAN:  Swinging@AIDS Golf Tournament and Benefit Concert
Swinging@AIDS is a golf tournament and benefit concert to jointly benefit the programs and services of TIHAN and the Children of Africa Hope Mission School of Kenya.  The golf tournament and silent auction is Saturday, March 24 at the beautiful Conquistador course at El Conquistador Golf & Tennis in Oro Valley.  The following day is the benefit concert at Monterey Court, featuring the Ronstadt "Brothers."  
Saturday, March 24 – the 4th annual Tucson Swinging@AIDS Golf Tournament and Silent Auction at El Conquistador Golf (10555 N La Canada Drive).  12:30pm shotgun start, scramble format.  $125 entrance fee includes greens fees, meal, prizes, and a $50 donation.  
Sunday, March 25 – Benefit Concert, 6:00pm at Monterey Court, featuring The Ronstadt "Brothers" on the Courtyard Stage outside.  Come early at 5:00pm and enjoy dinner, appetizers, or drinks at the Monterey Court Café (505 W Miracle Mile) before the show starts.  Tickets are $20 (of which $15 is a donation), and are available through the TIHAN office or online at https://www.eventbrite.com/e/swingingaids-benefit-concert-tickets-42239431276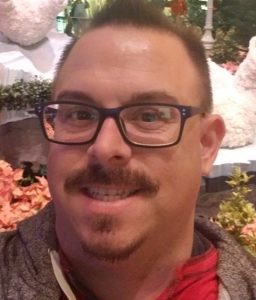 Meet Ed – A TIHAN Operations Assistant
Ed, a pre-pharmacy student at Pima Community College, joined TIHAN as an Operations Assistant in December of 2017.  He chose TIHAN because of the reputation TIHAN has within the community for being an agency full of warm, compassionate and committed volunteers and staff, working hard to ensure individuals affected by HIV/AIDS get the help and support they need.  Additionally, Ed has several friends who have enjoyed volunteering with TIHAN, and after hearing about their experiences at TIHAN, Ed was compelled to check it out for himself.
As an Operations Assistant, Ed enjoys interacting with the staff and CarePartners who come through the door.  "Connecting them with someone at TIHAN who can help them feels awesome," he said.  Ed also enjoys helping TIHAN staff with the various projects that come up, because it makes volunteering in the office different every day.
"Before volunteering with TIHAN," he said, "I thought I had an idea of what they did in our community.  But I was amazed to see the extent to which the staff and volunteers go, to help those in need within our community.  From CarePackages to Poz Café, I didn't know TIHAN did so much and I am so happy to be a part of the TIHAN family."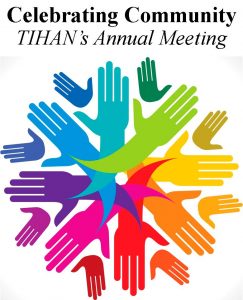 Recognizing Great Efforts, and Celebrating with a Big Party!
TIHAN will be celebrating and honoring our wonderful volunteers, donors, and community partners who show their "True Colors" year-round. Our Annual Meeting and Community Appreciation event is Tuesday, March 13, and you can help by nominating one or more of TIHAN's fantastic volunteers and supporters!  Click here today to make a nomination!  And mark your calendar to join us for the event – Tuesday, March 13 at St. Michael and All Angels Episcopal Church (602 N Wilmot Road) – it's free and open to all.  RSVP to Dennisse Ley at VolunteerCoordinator@tihan.org or 299-6647 ext 206.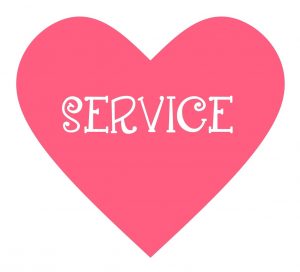 Tj Keeps a Focus on Service, Despite the Odds
Community engagement and activism have always been important to Tj, and that didn't change when he learned that he was living with HIV.  Tj has worked with organizations including Kids Central, the AZ AIDS Project, and the Gay Men's Health Project/M-Shape.  His focus on community services helps Tj maintain his positive outlook on life and commitment to others, despite the challenges in his journey. He lost a foster son to gun violence, and was hospitalized with AIDS complications in the early 2000s. More recently, Tj's doctors have had difficulty finding the right medications to keep his viral load down, and he often finds himself fatigued. Nonetheless, Tj keeps his focus on his creative writing and staying involved in his community.
Tj first became affiliated with TIHAN in 2007, when he received financial assistance to help with one of his bills. A few years later, he became sick and requested a CareTeam. Tj recalls, "TIHAN was a big part of my care up to about 2010."  He shared how much it meant to him to have someone volunteer their time to visit him in his home, prepare him meals, and just be there for him.  As his health improved, Tj began to take advantage of TIHAN's other programs. Today, he regularly attends the monthly Poz Café luncheons and the Living Well classes.
In addition to enjoying TIHAN's programs for people living with HIV, Tj gives back to TIHAN as a volunteer.  He has helped at the large fundraising events, Treasures for TIHAN and Turnabout for TIHAN.  And in the wider community, Tj advocates for HIV/AIDS funding among local legislators, and he plans to attend AIDSWatch this year in Washington, DC.
We hope that you are as inspired as we are by Tj's heart for service. Thank you for your contributions that allow us to serve as a part of Tj's support network, and provide support to many others here in Tucson living with HIV.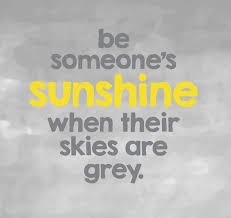 Would you like to be involved and brighten someone's day? Volunteer at TIHAN today!
Feeling inspired?  Would you like to get involved and don't know where to start?  Sign up for our next Volunteer Orientation, which takes place on Saturday, March 3rd from 8:30am to 12:30pm. We are recruiting volunteers for Events, Administrative, and Care & Support roles.  For more info, click here…
Annual Meeting Volunteers

"Treasures for TIHAN" Auction Planning Team Members

"Treasures for TIHAN" Auction Item Solicitors

Database Entry Team Members

Link Specialists

Community Ambassadors

Maintenance Technician

Lead Newsletter Volunteer

Graphic Design Volunteer
You can also find the complete list of our current volunteer openings by going to TIHAN.org, clicking on "Volunteer," then on "Become a Volunteer." One of these opportunities listed there might be just right for you!  Call or email our Volunteer Coordinator, Dennisse Ley, at 299-6647 ext 206, or VolunteerCoordinator@tihan.org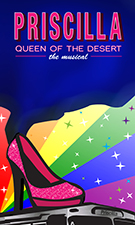 A Benefit for TIHAN:  Priscilla, Queen of the Desert, the Musical!
 Join us for a benefit for TIHAN at the Pima Community College production of PRISCILLA, QUEEN OF THE DESERT, the musical!  We're especially excited because TIHAN Board President Dan Uroff has the lead role!    The show takes place at the Proscenium Theatre at PCC's West Campus (2202 West Anklam Road).  You have two shows to choose from that benefit TIHAN:  
Saturday night, March 3rd, at 7:30pm, or
Sunday afternoon, March 4th, at 2:00pm
Tickets are $30 each, with $14 of each ticket benefitting the programs and services of TIHAN.  Or you can purchase 4 tickets for $100 ($9/ticket benefit TIHAN). And perhaps consider purchasing a few tickets to donate for people living with HIV to attend the show.  Limited seats available – to reserve your spot, call or stop by our office with payment and let us know which performance you want to attend.  Each show will include a special reception with cast members – exclusively for those who purchase your tickets through TIHAN!
Bach on Guitar:  Dove of Peace Classical Music Concert to Benefit TIHAN
Dove of Peace Lutheran Church's immensely popular free series of classical music concerts, now in its fourteenth season, presents Bach on Guitar as a benefit for TIHAN.  As with all of Dove's concerts, admission is free, although a free-will offering will be taken in support of TIHAN's programs and services.  The concert takes place in the Sanctuary of Dove of Peace Lutheran Church.
Sunday, March 11, 2018, 2:00pm
Bach on Guitar
Enjoy the music of Bach transcribed for guitar and other works performed by the finalists of the University of Arizona David Russell Bach Competition
Note from Dove of Peace: Although we sometimes fill up for our New Year's Concert, they always have plenty of seating at our March concert.  Dove of Peace is located on the near-northwest side of Tucson, Arizona.  The address is 665 West Roller Coaster Road.  The closest major crossroads are River Road and Oracle Road (AZ-77).
Treasures for TIHAN – Save the Date!
 June 2, 2018 at the Marriott University Park Hotel – our fabulous Treasures for TIHAN benefit auction and party.  It's our biggest event of the year – mark your calendar, and plan to join us!  Stay tuned as we begin to release the details soon!