Dear All,
Welcome to 2018!  Because of people like you, we enter the new year strong, and appreciate the support you provided in 2017.  The culminating event of 2017 was the December Poz Café Holiday Dinner Party, where we served 174 CarePartners living with HIV and their guests; distributed 111 CarePackages filled with toiletry and cleaning items; and gave holiday gifts and gift cards to 120 CarePartners. From financial donations and in-kind donations and donations of your time through volunteering, we anticipate that you helped TIHAN serve a record number of individuals living with HIV last year. Watch out for numbers and accomplishments in the next e-newsletter!  Now, 2018 is here, and we're continuing to serve our community as much as we can!  Because of you, we can fulfill the promise of telling our CarePartners:  You are not in this alone!
Thanks for taking a few minutes out of your busy day to read these following news flashes with important info about events and opportunities for those of us who care so much about HIV and issues of supporting people!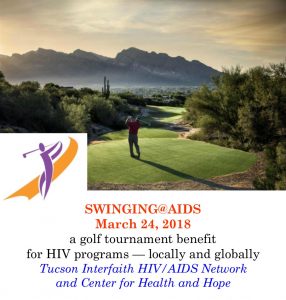 Swinging@AIDS Benefit Golf Tournament and Concert
Swinging@AIDS is a golf tournament and benefit concert to jointly benefit the programs and services of the Tucson Interfaith HIV/AIDS Network (TIHAN) and the Children of Africa Hope Mission School of Kenya.  The golf tournament and silent auction is Saturday, March 24 at the beautiful course at Conquistador Golf & Tennis in Oro Valley.  The following day is the benefit concert at Monterey Court, featuring the Ronstadt "Brothers."  For more information or to reserve your spot, contact Claudia Svarstad at 303-594-8027 or csvarstad1@gmail.com.
Saturday, March 24 – the 4th annual Tucson Swinging@AIDS Golf Tournament and Silent Auction, taking place at El Conquistador Golf (10555 N La Canada Drive).  12:30pm shotgun start, scramble format.  $125 entrance fee includes greens fees, meal, prizes, and a $50 donation.  This beautiful course takes you along winding paths through stunning desert landscapes of mystical, vast and open spaces with prickly vegetation which provides an indescribable beauty. Play through saguaro-capped hillsides surrounded by natural desert terrain, and enjoy manicured fairways and spectacular views of the Catalina Mountains and desert wildlife.  www.elcongolfandtennis.com
Sunday, March 25 – Benefit Concert, 6:00pm at Monterey Court, featuring The Ronstadt "Brothers" on the Courtyard Stage outside.  Petie and Bobby Ronstadt along with Alex Flores and a multitude of other excellent musicians play music that is exemplary of southwest cultures. Multi-instrumentalists and solo performers in their own right, they present an exciting repertoire that preserves the traditional Southwestern and Mexican songs of their heritage while offering innovative original material.  Come early and enjoy dinner, appetizers, or drinks at the Monterey Court Café (505 W Miracle Mile) before the show starts.  Visit www.montereycourtaz.com for details about the unique historic setting for the concert.
See http://www.centerforhealthandhope.org/ for additional details.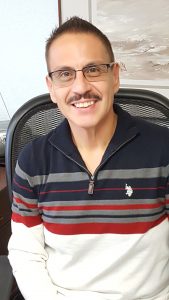 Meet Ruben – A TIHAN Volunteer Operations Assistant
Ruben joined TIHAN as a volunteer Operations Assistant in October of 2017. He chose to volunteer his time for TIHAN because of the support Ruben has personally received from TIHAN. "They have been really good to me. They have assisted me with care packages and most importantly, they made me feel that I belong and that I am truly cared for. The staff and volunteers at TIHAN are very caring and make you feel welcomed because they are willing to go that extra mile to meet the needs of individuals who are seeking out assistance and support. I also like that it is a small, family environment at TIHAN because that makes it even more personal and welcoming."
As a volunteer Operations Assistant, Ruben really enjoys working at the front desk because of the interactions he has with everyone who comes through the door. He truly enjoys talking with CarePartners, donors and other volunteers. "It's a great way to meet people and make new friends, and it's even better when you encounter friends who you haven't seen in a while."
In Ruben's words, "TIHAN is a great organization that truly cares about all its people and will welcome anybody with open arms when they need assistance, a friend to talk to, or even a shoulder for comfort. I love being a part of the TIHAN Volunteer Program."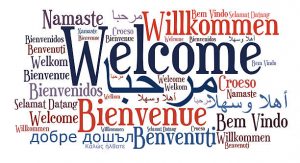 Become a TIHAN Operations Assistant and Make a Difference
If you enjoy meeting new people and love to be of support, you could be a TIHAN volunteer Operations Assistant.   We are seeking out people who are social, organized, welcoming, and like to help!  We need volunteers to welcome visitors to the office and help with administrative tasks.  If you have a few hours a week to donate and possess some computer skills, we'd love to explore this opportunity with you.  For additional information and to sign up for our next Volunteer Orientation, contact Dennisse Ley, Volunteer Coordinator, at (520) 299-6647 ext. 206 or VolunteerCoordinator@tihan.org

Do You Know Any Great Volunteers and Supporters of TIHAN?  Help Us Recognize them Publicly!
TIHAN will be recognizing outstanding people and groups at our Annual Meeting on Tuesday, March 13, 2018, and you can help by nominating one or more of TIHAN's wonderful volunteers and supporters! You can make the nomination on our website.  You can also pick up a nomination form at the TIHAN office, or contact Dennisse Ley at VolunteerCoordinator@tihan.org or 299-6647 ext 206 and she will send you one.  The deadline for nominations is Tuesday, February 20th, but act now to be sure we receive your nomination on time.

Toilet Tissue Donations Welcomed!
Paper goods are the cornerstone of the CarePackages that are distributed each month, with paper towels and toilet tissue being most two of the most-requested items. Right now, TIHAN has plenty of paper towels in stock, but we could really use your help in bolstering our supplies of toilet tissue. Please help us best serve our CarePartners by delivering the support that they most need. Whether you can donate a pack of 2 rolls from the grocery store, or a pack of 30 rolls from Costco – every donation is very much appreciated. Donations can be brought to the TIHAN office at 2660 N. 1st Avenue. during regular business hours, Monday-Friday 8:30-4:30. Two-ply tissue only, please!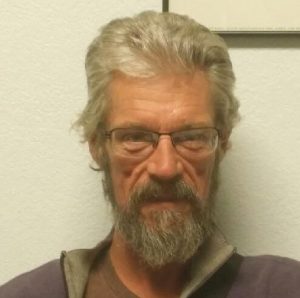 Is There Still HIV Stigma in Tucson?  New to Town, Stephen Shares His Thoughts
Stephen was born and raised in North Carolina, but left home for Boston when he was 18 years old. After 20 years there, he headed west and made a new home in San Francisco. That same year (1994), Stephen learned that he was living with HIV.  Once diagnosed, he was quickly connected with care. In 2015, Stephen moved once more, this time to Tucson.  He's become more adjusted to his HIV status over the years, but HIV stigma is still a big issue.
Stephen says that when he was first diagnosed, he was scared, but has learned to cope over the years. "It's more frightening when you first get infected," he says, "but after 23 years, it's not as frightening."  He shares that living with HIV has caused some difficulties in certain social situations, even more so in Tucson. "Here in Tucson, it seems more of a taboo," he tells us. "You need to be careful who you tell, compared to San Francisco where it didn't matter…"  Still, Stephen does his best to live life to its fullest, and appreciates TIHAN's support for him, and our efforts at HIV awareness and de-stigmatization.  
Although fairly new to TIHAN, Stephen has already felt helped and supported by volunteers and staff. "It is so good that TIHAN is here to give CarePackages!  These items are things you can't get with food stamps and it also helps your income go further."  We are glad to now be a part of Stephen's support network as he continues his journey of living well with HIV, and we know that, together, we can all work harder to dispel the myths and stereotypes and the stigma that still weighs heavy and inhibits people from thriving.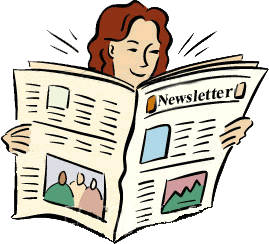 The TIHAN Newsletter Brigade needs YOU to Help for A Few Hours!   
Our next quarterly newsletter production party is Monday, January 22nd through Thursday, January 25th.  Our quarterly newsletter production is a wonderful group event – friendly, interesting people, easy work, and it helps us share our message with our stakeholders who care about HIV. We can use your energy (and smile) for a few hours, a morning, afternoon, or the entire four days.  Folding, tabbing, labeling, and sorting will take place in the TIHAN office from 9am to 4pm Monday, January 22nd through Wednesday, January 24th and 12pm to 4pm on Thursday, January 25th.  Please RSVP by phone or email to Maggie McCann, Operations Manager, at 299-6647 ext 204 or OperationsManager@tihan.org. Refreshments will be provided and if you are interested in sponsoring one of the lunches during the production party, please let us know. We hope you can join us!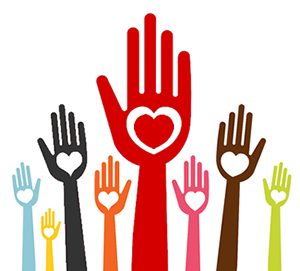 Volunteering is a work of Heart
Would you like to get to know your community better, develop new skills and connections, and improve your resume? Volunteer at TIHAN today!  Sign up for our January 23rd Volunteer Orientation, which takes place from 8:30am to 12:30pm. We are recruiting volunteers for administrative, direct support services, and fundraising roles within the agency.  Please consider joining TIHAN as a:
"Treasures for TIHAN" Auction Planning Team Members

Operations Assistants

Database Entry Team Members

Community Ambassadors (resource tabling volunteers)

Link Specialists, especially Spanish-speaking

Grant Team Members

"Treasures for TIHAN" Auction Item Solicitors

Golf Tournament Helpers

Maintenance Technician Volunteers
You can also find the complete list of our current volunteer openings by going to TIHAN.org, clicking on "Volunteer," then on "Volunteer Opportunities." One of them might be just right for you! If you have additional questions, please contact Dennisse Ley, Volunteer Coordinator, at 299-6647 ext. 206, or VolunteerCoordinator@tihan.org